****
Detective Michael Bennett and his family are about to be haunted. by a father's worst nightmare–the signs he should have seen and a son's desperate cry for help. Reeling from a crisis that would destroy lesser families, the Bennetts escape New York for a much-needed vacation. An idyllic country town in the Maine woods is haunted. by an epidemic emptying its streets and preying on its youth. Turns out the vacation brochures don't tell the full story-the seemingly perfect community has a deadly vice. When local cops uncover a grisly crime scene buried deep in the woods, they consult the vacationing Bennett, who jumps at the chance to atone for his own sins. You can take Michael Bennett out of New York City, but you can't take the cop out of Michael Bennett. But far from the city streets he knows so well, no one will talk to the big-city detective, and the bodies keep piling up. A young, hardscrabble, and forgotten girl is haunted. by a traumatic history. Homeless and destitute, she represents the closest thing Bennett has to a partner in his frantic hunt for the ghostlike perpetrator behind the violence. Will Bennett and his unlikely ally unmask the culprit before anyone else winds up haunted?
SIGNED BY JAMES PATTERSON AND JAMES O. BORN ON THE TITLE PAGE
$28.00
****
A bracing, hypnotic coming-of-age story about the bond of best friends, from the New York Times best-selling author of The Emperor's Children.Julia and Cassie have been friends since nursery school. They have shared everything, including their desire to escape the stifling limitations of their birthplace, the quiet town of Royston, Massachusetts. But as the two girls enter adolescence, their paths diverge and Cassie sets out on a journey that will put her life in danger and shatter her oldest friendship. The Burning Girl is a complex examination of the stories we tell ourselves about youth and friendship, and straddles, expertly, childhood's imaginary worlds and painful adult reality—crafting a true, immediate portrait of female adolescence. Claire Messud, one of our finest novelists, is as accomplished at weaving a compelling fictional world as she is at asking the big questions: To what extent can we know ourselves and others? What are the stories we create to comprehend our lives and relationships? Brilliantly mixing fable and coming-of-age tale, The Burning Girl gets to the heart of these matters in an absolutely irresistible way.
$25.95
****
Since We Fell follows Rachel Childs, a former journalist who, after an on-air mental breakdown, now lives as a virtual shut-in. In all other respects, however, she enjoys an ideal life with an ideal husband. Until a chance encounter on a rainy afternoon causes that ideal life to fray. As does Rachel's marriage. As does Rachel herself. Sucked into a conspiracy thick with deception, violence, and possibly madness, Rachel must find the strength within herself to conquer unimaginable fears and mind-altering truths. By turns heart- breaking, suspenseful, romantic, and sophisticated, Since We Fell is a novel of profound psychological insight and tension. It is Dennis Lehane at his very best.
$27.99
****
Bolder, even, than the ambitious books for which Stephen Greenblatt is already renowned, The Rise and Fall of Adam and Eve explores the enduring story of humanity's first parents. Comprising only a few ancient verses, the story of Adam and Eve has served as a mirror in which we seem to glimpse the whole, long history of our fears and desires, as both a hymn to human responsibility and a dark fable about human wretchedness. Tracking the tale into the deep past, Greenblatt uncovers the tremendous theological, artistic, and cultural investment over centuries that made these fictional figures so profoundly resonant in the Jewish, Christian, and Muslim worlds and, finally, so very "real" to millions of people even in the present. With the uncanny brilliance he previously brought to his depictions of William Shakespeare and Poggio Bracciolini (the humanist monk who is the protagonist of The Swerve), Greenblatt explores the intensely personal engagement of Augustine, Dürer, and Milton in this mammoth project of collective creation, while he also limns the diversity of the story's offspring: rich allegory, vicious misogyny, deep moral insight, and some of the greatest triumphs of art and literature. The biblical origin story, Greenblatt argues, is a model for what the humanities still have to offer: not the scientific nature of things, but rather a deep encounter with problems that have gripped our species for as long as we can recall and that continue to fascinate and trouble us today.
$27.95
****
Orphaned at a young age, Edith Stuyvesant Dresser claimed lineage from one of New York's best known families. She grew up in Newport and Paris, and her engagement and marriage to George Vanderbilt was one of the most watched events of Gilded Age society. But none of this prepared her to be mistress of Biltmore House. Before their marriage, the wealthy and bookish Vanderbilt had dedicated his life to creating a spectacular European-style estate on 125,000 acres of North Carolina wilderness. He summoned the famous landscape architect Frederick Law Olmsted to tame the grounds, collaborated with celebrated architect Richard Morris Hunt to build a 175,000-square-foot chateau, filled it with priceless art and antiques, and erected a charming village beyond the gates. Newlywed Edith was now mistress of an estate nearly three times the size of Washington, DC and benefactress of the village and surrounding rural area. When fortunes shifted and changing times threatened her family, her home, and her community, it was up to Edith to save Biltmore—and secure the future of the region and her husband's legacy. The story of Biltmore spans World Wars, the Jazz Age, the Depression, and generations of the famous Vanderbilt family, and features a captivating cast of real-life characters including F. Scott Fitzgerald, Thomas Wolfe, Teddy Roosevelt, John Singer Sargent, James Whistler, Henry James, and Edith Wharton. The Last Castle is the unique American story of how the largest house in America flourished, faltered, and ultimately endured to this day.
$28.00
****
With unmatched suspense and emotional insight, Harlan Coben explores the big secrets and little lies that can destroy a relationship, a family, and even a town in this powerful new thriller. Suburban New Jersey Detective Napoleon "Nap" Dumas hasn't been the same since senior year of high school, when his twin brother Leo and Leo's girlfriend Diana were found dead on the railroad tracks—and Maura, the girl Nap considered the love of his life, broke up with him and disappeared without explanation. For fifteen years, Nap has been searching, both for Maura and for the real reason behind his brother's death. And now, it looks as though he may finally find what he's been looking for. When Maura's fingerprints turn up in the rental car of a suspected murderer, Nap embarks on a quest for answers that only leads to more questions—about the woman he loved, about the childhood friends he thought he knew, about the abandoned military base near where he grew up, and mostly about Leo and Diana—whose deaths are darker and far more sinister than Nap ever dared imagine.
$28.00
****
Two girls are forced into the woods at gunpoint. One runs for her life. One is left behind. Twenty-eight years ago, Charlotte and Samantha Quinn's happy small-town family life was torn apart by a terrifying attack on their family home. It left their mother dead. It left their father — Pikeville's notorious defense attorney — devastated. And it left the family fractured beyond repair, consumed by secrets from that terrible night. Twenty-eight years later, and Charlie has followed in her father's footsteps to become a lawyer herself — the ideal good daughter. But when violence comes to Pikeville again — and a shocking tragedy leaves the whole town traumatized — Charlie is plunged into a nightmare. Not only is she the first witness on the scene, but it's a case that unleashes the terrible memories she's spent so long trying to suppress. Because the shocking truth about the crime that destroyed her family nearly thirty years ago won't stay buried forever.
$27.99
****
Dubbed "The Mixmaster" for his ability to blend high- and low-end pieces to create rooms that are simultaneously fresh and classic, Eric Cohler's interior design is always a tribute to individual personality and style. Full of accessible tips and tricks, Cohler encourages his clients to be true to themselves, revel in what makes them happy, and surround themselves with objects and art that reflect that joy.  Interspersed among the 160 illustrations of his own work are images of seminal historic interiors, artwork, style icons, and architectural masterpieces that have influenced  Cohler's designs and encouraged him to look at a space in a new way—and likewise teach readers to define what inspires them and how to incorporate that inspiration into their homes in a meaningful way. Cohler on Design exemplifies how to live well by integrating your personal tastes and passions into your interiors. This lavishly illustrated volume is a visual tour of Cohler's work, from luxurious penthouses to quaint country homes to glamorous pool-houses; from the bright, clean lines of contemporary design to the rich, intricate detailing of classic architecture. Eric Cohler, a perennial name on Elle Decor's A-List, translates his extensive education in art and architecture into an uncomplicated, modern approach to interior design. He presents each project not as a merely aspirational fait accompli, but as a real example of a design idea that you can try in your own rooms, whether you're hanging your collection of original Andy Warhol prints or your child's finger-paintings. With vivid, dynamic text detailing Cohler's experiences in the world of interiors, Cohler on Design is a guide to making the fantastic possible, and the commonplace extraordinary.
SIGNED by Eric Cohler
$50.00
****
Mar-a-Lago echoes the refrains of the original owner, Marjorie Merriweather Post's lavish and much sought-after lifestyle of the 1920s era. Mar-a-Lago was purchased in 1985 by Donald J. Trump to preserve the mansion's legacy. Since 1995, Mar-a-Lago has operated as a private club with world-class festivities,  events, royalty, celebrities, dignitaries and statesmen.
The book is a beautiful journey through time, featuring a room-by-room tour through 245 glossy pages of photos and historical editorial.
*Exclusive* SIGNED BY THE AUTHOR, OLYMPIA DEVINE
$100.00
****
·A must-have for fans of Carleton Varney and Dorothy Draper
·Insider views of the world's most famous resorts: the Greenbrier in White Sulphur Springs, West Virginia and the Grand Hotel on Mackinac Island, Michigan
·Perfect compendium to HSN's television show, Live Vividly
·As practical as it is beautiful, this book contains decorating advice from one of Architectural Digest's "Deans of Design."
Carleton Varney is "Mr. Color," known for his inventive use of unexpected color combinations and for creating bright, happy interiors. His projects have ranged from some of the world's most famous resorts, such as the Greenbrier in West Virginia, and the Grand Hotel in Michigan, to the White House, as well as residences from Europe to the South Pacific. As a young man, he trained under the tutelage of legendary designer Dorothy Draper. Now as the head of the venerable Dorothy Draper and Company, Inc., Varney continues the tradition of grand scale and bold contrasts in fabrics, wall coverings, and furniture designs, and yet he gives every room his signature style. For the first time, he offers an "on the set" tour of his popular HSN television show, Live Vividly. "Living with color changes your life," says Varney, and in Mr. Color, more than three hundred dazzling photographs by Michel Arnaud show you how.
SIGNED by Carlton Varney
$95.00
****
America's Blair House welcomes the most powerful diplomatic and political officials in the world through its doors to enjoy its comforts and historical surroundings during their stay in Washington, D.C. Built in 1824 and purchased by the Blair family in 1836, it long served as a home-away-from-home for American presidents, such as Andrew Jackson and Abraham Lincoln. In 1942, under President Franklin D. Roosevelt, the United States government purchased the house and its historic contents for use as a guest house for official visitors to the White House. Since then the federal government and private contributors have made this a retreat of special charm and beauty, "very American," as its visitors often say. This book takes you through the long history of the house, now a complex of buildings, and inside its rooms today, with their elegant mingling of antiques and present-day furnishings. Illustrated throughout with newly commissioned photography of objects and interiors by Bruce M. White and Durston Saylor. Published by the White House Historical Association.
$59.95
****
Family relationships are never simple. But Sherman Alexie's bond with his mother Lillian was more complex than most. She plunged her family into chaos with a drinking habit, but shed her addiction when it was on the brink of costing her everything. She survived a violent past, but created an elaborate facade to hide the truth. She selflessly cared for strangers, but was often incapable of showering her children with the affection that they so desperately craved. She wanted a better life for her son, but it was only by leaving her behind that he could hope to achieve it. It's these contradictions that made Lillian Alexie a beautiful, mercurial, abusive, intelligent, complicated, and very human woman.When she passed away, the incongruities that defined his mother shook Sherman and his remembrance of her. Grappling with the haunting ghosts of the past in the wake of loss, he responded the only way he knew how: he wrote. The result is a stunning memoir filled with raw, angry, funny, profane, tender memories of a childhood few can imagine, much less survive.
Signed by the author on a publisher's tipped-in page.
****
Renee Ballard works the night shift in Hollywood, beginning many investigations but finishing none, as each morning she turns everything over to the day shift. A once up-and-coming detective, she's been given this beat as punishment after filing a sexual harassment complaint against a supervisor. But one night she catches two assignments she doesn't want to part with: the brutal beating of a prostitute left for dead in a parking lot and the killing of a young woman in a nightclub shooting. Ballard is determined not to give up at dawn. Against orders and her partner's wishes, she works both cases by day while maintaining her shift by night. As the investigations entwine, they pull her closer to her own demons and the reason she won't give up her job, no matter what the department throws at her.
Signed by the author on the title page.
$28.00
****
Identical twin sisters who couldn't look more alike…or live more differently. Harper Frost is laid-back, easygoing. She doesn't care what anyone thinks of her. She likes a beer and a shot and wouldn't be caught dead wearing anything fashionable. She's inherited her father's rundown house on Martha's Vineyard, but she can't hold down a job, and her latest romantic disaster has the entire island talking. Two beautiful islands only eleven miles apart. Tabitha Frost is dignified, refined. She prefers a fine wine and has inherited the impeccable taste of her mother, the iconic fashion designer Eleanor Roxie-Frost. She's also inherited her mother's questionable parenting skills–Tabitha's teenage daughter, Ainsley, is in full rebellion mode–and a flailing fashion boutique on Nantucket in desperate need of a cash infusion. One unforgettable summer that will change their lives forever.  After more than a decade apart, Harper and Tabitha switch islands–and lives–to save what's left of their splintered family. But the twins quickly discover that the secrets, lies, and gossip they thought they'd outrun can travel between islands just as easily as they can. Will Harper and Tabitha be able to bury the hatchet and end their sibling rivalry once and for all? Before the last beach picnic of the season, there will be enough old resentments, new loves, and cases of mistaken identity to make this the most talked-about summer that Martha's Vineyard and Nantucket have experienced in ages.
Signed by the author on a publisher's tipped-in page
$28.00
****
It's 1949 and South Philadelphia bursts with opportunity during the post-war boom. The Palazzini Cab Company & Western Union Telegraph Office, owned and operated by Dominic Palazzini and his three sons, is flourishing: business is good, they're surrounded by sympathetic wives and daughters-in-law, with grandchildren on the way. But a decades-long feud that split Dominic and his brother Mike and their once-close families sets the stage for a re-match.  Amidst the hoopla, the arrival of an urgent telegram from Italy upends the life of Nicky Castone (Dominic and his wife's orphaned nephew) who lives and works with his Uncle Dom and his family. Nicky decides, at 30, that he wants more—more than just a job driving Car #4 and more than his longtime fiancée Peachy DePino, a bookkeeper, can offer. When he admits to his fiancée that he's been secretly moonlighting at the local Shakespeare theater company, Nicky finds himself drawn to the stage, its colorful players and to the determined Calla Borelli, who inherited the enterprise from her father, Nicky must choose between the conventional life his family expects of him or chart a new course and risk losing everything he cherishes. From the dreamy mountaintop village of Roseto Valfortore in Italy, to the vibrant streets of South Philly, to the close-knit enclave of Roseto, Pennsylvania, to New York City during the birth of the golden age of television, Kiss Carlo is a powerful, inter-generational story that celebrates the ties that bind, while staying true to oneself when all hope seems lost. Told against the backdrop of some of Shakespeare's greatest comedies, this novel brims with romance as long buried secrets are revealed, mistaken identities are unmasked, scores are settled, broken hearts are mended and true love reigns. Trigiani's consummate storytelling skill and her trademark wit, along with a dazzling cast of characters will enthrall readers. Once again, the author has returned to her own family garden to create an unforgettable feast. Kiss Carlo is a jubilee, resplendent with hope, love, and the abiding power of la famiglia.
SIGNED ON THE PUBLISHER'S TIPPED-IN PAGE
$27.99
****
For forty years, David Sedaris has kept a diary in which he records everything that captures his attention-overheard comments, salacious gossip, soap opera plot twists, secrets confided by total strangers. These observations are the source code for his finest work, and through them he has honed his cunning, surprising sentences. Now, Sedaris shares his private writings with the world. Theft by Finding, the first of two volumes, is the story of how a drug-abusing dropout with a weakness for the International House of Pancakes and a chronic inability to hold down a real job became one of the funniest people on the planet. Written with a sharp eye and ear for the bizarre, the beautiful, and the uncomfortable, and with a generosity of spirit that even a misanthropic sense of humor can't fully disguise, Theft By Finding proves that Sedaris is one of our great modern observers. It's a potent reminder that when you're as perceptive and curious as Sedaris, there's no such thing as a boring day.
Signed by the author on a publisher's tipped-in page
$28.00
****
Eve Fletcher is trying to figure out what comes next. A forty-six-year-old divorcee whose beloved only child has just left for college, Eve is struggling to adjust to her empty nest when one night her phone lights up with a text message. Sent from an anonymous number, the mysterious sender tells Eve, "U R my MILF!" Over the months that follow, that message comes to obsess Eve. While leading her all-too-placid life—serving as Executive Director of the local senior center by day and taking a community college course on Gender and Society at night—Eve can't curtail her own interest in a porn website called MILFateria.com, which features the erotic exploits of ordinary, middle-aged women like herself. Before long, Eve's online fixations begin to spill over into real life, revealing new romantic possibilities that threaten to upend her quiet suburban existence. Meanwhile, miles away at the state college, Eve's son Brendan—a jock and aspiring frat boy—discovers that his new campus isn't nearly as welcoming to his hard-partying lifestyle as he had imagined. Only a few weeks into his freshman year, Brendan is floundering in a college environment that challenges his white-dude privilege and shames him for his outmoded, chauvinistic ideas of sex. As the New England autumn turns cold, both mother and son find themselves enmeshed in morally fraught situations that come to a head on one fateful November night.
Signed by the author on a publisher's tipped-in page
$26.00
****
When a matchmaker begins to question her latest match, Isabel Dalhousie is called upon to help. A new baby brings an abundance of joy to Isabel and her husband, Jamie—but almost-four-year-old Charlie is none too keen on his newborn brother. In fact, he refuses to acknowledge Magnus, and Isabel must find a way to impress upon her older son the patience and understanding that have served as guiding principles in her own life.  These are the very qualities that bring Bea Shandon, an old acquaintance of Isabel's, to seek her help in a tricky situation. Something of a matchmaker, Bea has introduced a wealthy female friend to a cosmetic surgeon at her most recent dinner party. Then new information comes to light about the surgeon that causes Bea to doubt his motives and the auspiciousness of the match. Isabel agrees to find out more, but as her enquiries take an unexpected turn, she starts to wonder whom exactly she should be investigating. As ever, Isabel's intelligence, quick wit and deep empathy will come to her aid as she grapples with the issues that are her bread and butter: friendship and its duties, the obligation of truthfulness, and the importance of perspective.
SIGNED BY THE AUTHOR ON A PUBLISHER'S TIPPED-In PAGE
$25.95
****
A heart-stopping tale of suspense, Daniel Silva's runaway bestseller, The Black Widow, was one of 2016's biggest novels. Now, in House of Spies, Gabriel Allon is back and out for revenge – determined to hunt down the world's most dangerous terrorist, a shadowy ISIS mastermind known only as Saladin.  Four months after the deadliest attack on the American homeland since 9/11, terrorists leave a trail of carnage through London's glittering West End. The attack is a brilliant feat of planning and secrecy, but with one loose thread. The thread leads Gabriel Allon and his team of operatives to the south of France and to the gilded doorstep of Jean-Luc Martel and Olivia Watson. A beautiful former British fashion model, Olivia pretends not to know that the true source of Martel's enormous wealth is drugs. And Martel, likewise, turns a blind eye to the fact he is doing business with a man whose objective is the very destruction of the West. Together, under Gabriel's skilled hand, they will become an unlikely pair of heroes in the global war on terror.
SIGNED ON A PUBLISHER'S TIPPED-IN PAGE
$28.99
****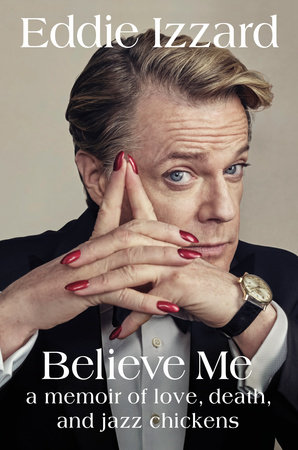 With his brand of keenly intelligent humor that ranges from world history to historical politics, sexual politics, mad ancient kings, and chickens with guns, Eddie Izzard has built an extraordinary fan base that transcends age, gender, and race. Writing with the same candor and insight evident in his comedy, he reflects on a childhood marked by the loss of his mother, boarding school, and alternative sexuality, as well as a life in comedy, film, politics, running and philanthropy.
SIGNED BY EDDIE IZZARD ON A TIPPED-IN PAGE
$28.00
****
The first full biography of Ernest Hemingway in more than fifteen years; the first to draw upon a wide array of never-before-used material; the first written by a woman, from the widely acclaimed biographer of Norman Mailer, Peggy Guggenheim, Henry Miller, and Louise Bryant.  A revelatory look into the life and work of Ernest Hemingway, considered in his time to be the greatest living American novelist and short-story writer, winner of the 1953 Pulitzer Prize for Fiction and the Nobel Prize in Literature in 1954. Mary Dearborn's new biography gives the richest and most nuanced portrait to date of this complex, enigmatically unique American artist, whose same uncontrollable demons that inspired and drove him throughout his life undid him at the end, and whose seven novels and six-short story collections informed–and are still informing–fiction writing generations after his death.
$35.00
***
How is it that we come to consider our parents as people with rich and intense lives that include but also exclude us? Richard Ford's parents—Edna, a feisty, pretty Catholic-school girl with a difficult past; and Parker, a sweet-natured, soft-spoken traveling salesman—were rural Arkansans born at the turn of the twentieth century. Married in 1928, they lived "alone together" on the road, traveling throughout the South. Eventually they had one child, born late, in 1944. For Ford, the questions of what his parents dreamed of, how they loved each other and loved him become a striking portrait of American life in the mid-century. Between Them is his vivid image of where his life began and where his parents' lives found their greatest satisfaction. Bringing his celebrated candor, wit, and intelligence to this most intimate and mysterious of landscapes—our parents' lives—the award-winning storyteller and creator of the iconic Frank Bascombe delivers an unforgettable exploration of memory, intimacy, and love.
$25.99
****
William F. Buckley Jr. is widely regarded as the most influential American conservative writer, activist, and organizer in the postwar era. In this nuanced biography, Alvin Felzenberg sheds light on little-known aspects of Buckley's career, including his role as back-channel adviser to policy makers, his intimate friendship with both Ronald and Nancy Reagan, his changing views on civil rights, and his break with George W. Bush over the Iraq War.  Felzenberg demonstrates how Buckley conveyed his message across multiple platforms and drew upon his vast network of contacts, his personal charm, his extraordinary wit, and his celebrity status to move the center of political gravity in the United States closer to his point of view. Including many rarely seen photographs, this account of one of the most compelling personalities of American politics will appeal to conservatives, liberals, and even the apolitical.
$35.00
****
Founded in 1958 in response to the launch of Sputnik, the agency's original mission was to create "the unimagined weapons of the future." Over the decades, DARPA has been responsible for countless inventions and technologies that extend well beyond military technology. Sharon Weinberger gives us a riveting account of DARPA's successes and failures, its remarkable innovations, and its wild-eyed schemes. We see how the threat of nuclear Armageddon sparked investment in computer networking, leading to the Internet, as well as to a proposal to power a missile-destroying particle beam by draining the Great Lakes. We learn how DARPA was responsible during the Vietnam War for both Agent Orange and the development of the world's first armed drones, and how after 9/11 the agency sparked a national controversy over surveillance with its data-mining research. And we see how DARPA's success with self-driving cars was followed by disappointing contributions to the Afghanistan and Iraq wars.
$32.50
****
Before there was Lisbeth Salander, before there was Stephanie Plum, there was V.I. Warshawski. To her parents, she's Victoria Iphigenia. To her friends, she's Vic. But to clients seeking her talents as a detective, she's V.I. And her new case will lead her from her native Chicago… and into Kansas, on the trail of a vanished film student and a faded Hollywood star.  Accompanied by her dog, V.I. tracks her quarry through a university town, across fields where missile silos once flourished — and into a past riven by long-simmering racial tensions, a past that holds the key to the crimes of the present. But as the mysteries stack up, so does the body count. And in this, her toughest case, not even V.I. is safe.
$27.99
****
Working out of her jewel box of an apartment at the base of the Brooklyn Bridge, Celine has made a career of tracking down missing persons, and she has a better record at it than the FBI. But when a young woman, Gabriela, asks for her help, a world of mystery and sorrow opens up. Gabriela's father was a photographer who went missing on the border of Montana and Wyoming. He was assumed to have died from a grizzly mauling, but his body was never found. Now, as Celine and her partner head to Yellowstone National Park, investigating a trail gone cold, it becomes clear that they are being followed–that this is a case someone desperately wants to keep closed. Inspired by the life of Heller's own remarkable mother, a chic and iconoclastic private eye, Celine is a deeply personal novel, a wildly engrossing story of family, privilege, and childhood loss. Combining the exquisite plotting and gorgeous evocation of nature that have become his hallmarks, Peter Heller gives us his finest work to date.
$25.95
****
****
This book is an adventure, a memoir, a love story, and a coming-of-age book for baby boomers. On a whim, the authors move to Palm Beach for one year. What begins as a playful adventure turns into a life-changing event. This wise book shows it is not the stuff we have but how we live our life that is important. In the style of Peter Mayle's  A Year in Provence and Frances Mayes' Under the Tuscan Sun, this book shows that sometimes a move to a new location can also mean a move to a new and better place in your life. As the authors' year unfolds, they also provide a finely-painted portrait of Palm Beach, from the mega yachts, mansions, and millionaires to laws that forbid dogs from barking or dictate the height of one's lawn. The authors swap stories with Jimmy Buffett, kick soccer balls with Rod Stewart, and have cocktails with monkeys on a yacht. This remarkable book gives readers the chance to live a fun, adventure-filled year in Palm Beach and to see how one couple came to find out what was most important to them and how they wanted to live the rest of their life.
Signed by the author on the title page.
$26.95
****
****
When she discovers her banker husband has been harboring a secret life, Ella Gilbert escapes their sleek SoHo loft for a studio in a quaint building in Greenwich Village. But her new refuge isn't quite what it seems. Her charismatic musician neighbor, Hector, warns her to stay out of the basement after midnight, when a symphony of mysterious noise strikes up—laughter, clinking glasses, jazz piano, the occasional bloodcurdling scream—even though it's stood empty for decades. Back in the Roaring Twenties, the building hosted one of the city's most notorious speakeasies. In 1924, Geneva "Gin" Kelly, a quick-witted flapper from the hills of western Maryland, is a regular at this Village hideaway known as the Christopher Club. Caught up in a raid, Gin lands in the office of Prohibition enforcement agent Oliver Anson, who persuades her to help him catch her stepfather, Duke Kelly, one of Appalachia's most notorious bootleggers. Sired by a wealthy New York scion who abandoned her showgirl mother, Gin is nobody's fool. She strikes a risky bargain with the taciturn, straight-arrow Revenue agent, even though her on-again, off-again Princeton beau, Billy Marshall, wants to make an honest woman of her and heal the legacy of her hardscrabble childhood. Gin's alliance with Anson rattles Manhattan society, exposing sins that shock even this free-spirited redhead—sins that echo from the canyons of Wall Street to the mountain hollers of her hometown. As Ella unravels the strange history of the building—and the family thread that connects her to Geneva Kelly—she senses the Jazz Age spirit of her incandescent predecessor invading her own shy nature, in ways that will transform her life in the wicked city.
$26.99
****
What determines who a woman will become? Jane Hall was an orphan at fifteen and a "literary prodigy" according to the press. How did this spirited young girl from an Arizona mining town become a Depression-era debutante, a successful author of magazine fiction, and a screenwriter at Hollywood's most glamorous studio? At Metro-Goldwyn-Mayer Jane wrote the story and the script for the "best social comedy of 1939," These Glamour Girls, and established a lively camaraderie with F. Scott Fitzgerald, who worked in the office next door to hers. But Jane's ambition conflicted with the expectations of her family, her friends, and the era in which she lived. Drawing on her mother's diaries and scores of letters, historian Robin Cutler takes us on an unforgettable journey through 1930s Manhattan and Hollywood as Jane wrestles with who she was meant to be. Such Mad Fun is a coming-of-age story set in a decade that has surprising parallels with American life today.
$14.95
****
****
In the years following the Civil War, Mariah Reddick, former slave to Carrie McGavock–the "Widow of the South"–has quietly built a new life for herself as a midwife to the women of Franklin, Tennessee. But when her ambitious, politically minded grown son, Theopolis, is murdered, Mariah–no stranger to loss–finds her world once more breaking apart. How could this happen? Who wanted him dead?
Signed by the author on the title page.
$26.00
****
Who was Ronald Reagan? James Rosebush reveals the man behind the President. President Ronald Reagan has been discussed, critiqued, and analyzed by both his supporters and his opponents. His legacy has lived on, but his character has remained a mystery. Who was the man behind the public figure? James Rosebush, Deputy Assistant to President Reagan and Chief of Staff to Nancy Reagan, knew the man that the rest of the world never fully understood. In WHAT MADE RONALD REAGAN GREAT AND WHY IT MATTERS, Rosebush uncovers Reagan's inner workings and the impact they had on history. With his insight and first-hand knowledge of President Reagan, Rosebush aims to show readers why Reagan was the last truly great leader, and how the end of that era is impacting our current state of affairs.
$27.00
****
A Life Formula: How to Get More Out of Life 
By Maria Mattsson
Maria, in Palm Beach visiting from Sweden, presents a formula for how you easier get what you want in life. To get more time for yourself. More balance and a wider sense of meaning in you life.
$20
*****
Two years after being tossed from the detective bureau for using questionable tactics while catching a child molester, deputy Tim Hallett's life is finally on track. Assigned to a special K-9 unit with the best partner in the world, a Belgian Malinois named Rocky, Hallett has finally learned to balance police work with his family life. But that all changes in the heat of a Florida sugarcane field. While searching for a kidnapper, Rocky locks onto the scent of a predator unlike anyone has ever seen. Or have they? The more Hallett digs, the closer he comes to his old issues when the case that ended his career as a detective appears to be the key to a series of kidnappings. When the trail turns to murder, Hallett risks everything to catch the killer, even if it means clearing the child molester who drove him to violence and ruined his career. Along the way, Hallett and his partners learn the true meaning of loyalty and courage as their canine companions take police work to a new level and show that instinct means more than training. Scent of Murder is a gritty police thriller from veteran law enforcement agent and author James O. Born.
$25.99
*****